The second set of photos from the 2014 Unveiled event are from Eddie Judd. I know I am a very lucky Miss Bush not to have just one amazing photographer but two on hand for such an eminently pretty event.
Eddie has seen Miss Bush at work from the first ever shoot at Fetcham Park (click here) to being client side as bridesmaid to her sister Chrissie – a Miss Bush bride this year. Perhaps the greatest achievement for all photographers (and my tongue is firmly in my cheek here) is to get a photo of me where I am not gurning, don't have my eyes shut and look passable for my age and condition! Importantly I must not want to erase the photo for eternity too. In an industry where we are surrounded by the young & the beautiful daily it's good to see a bit of crinkly, curvy just in case you think we're all body fascists!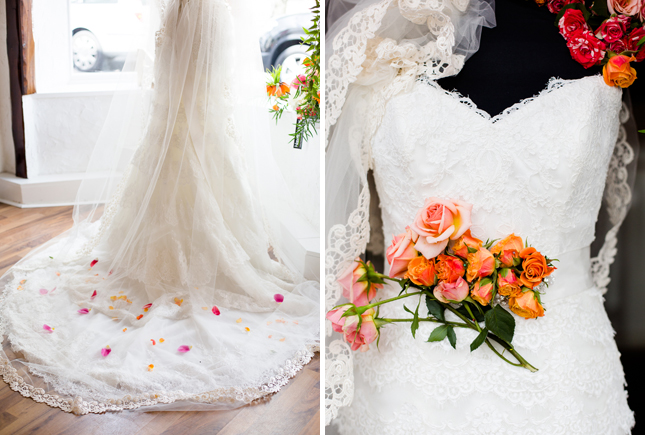 I was delighted to be joined at 2014 Unveiled by Stephan Bishop. Stephan has been in wedding world as long as Miss Bush and has just set up the eponymous Stephen Bishop Suiting. Steve is great fun, thoroughly professional, dapper of course & committed to quality & client service. A very natural fit within the Miss Bush circle of love!
MOBs often ask me where to go to get Occasion Wear and I have been trotting out the name Riva in Cobham for years based on the recommendations of my bride's Mums. To make 2014 Unveiled appealing to Mums as well it was high time I hot footed to Cobham to introduce myself to Vivienne, owner of Riva. How I got out of the shop without some lace shift dresses I do not know!  Although Vivienne is old enough to be a MOB – her daughter is getting married next year – she certainly doesn't look or dress like it! A comfort to all of us who think MOB-wear is a sartorial wilderness.
Below left is is me, Emma, flanked by Jade in the glorious blue & ivory Maggie Sottero dress called Hudson & Ellie in a cobalt blue bridesmaid from JLM Occasions.  I really want to thank Carolanne Armstrong for our make up & Sharon Roberts of Wonderful Wedding Hair for our 'do's'. They were so busy all day, mobbed in fact, giving free hair & make up mini trials that none of the photographers could get in their room to take photos! Take note brides to be – book them early!
Below right are some of the Miss Bush Team. Left to right – Emma Tallick, Saturday Sales; Cathie Farthing, Social Media Marketing & one half of Little Miss Bush; Tegan Buxton, full time sales & stylist and the other half of Little Miss Bush; Gina Cooper, Senior Saturday Sales & sometime production intern.
See the Little Miss Bush 'Burgundy Rehab' shoot here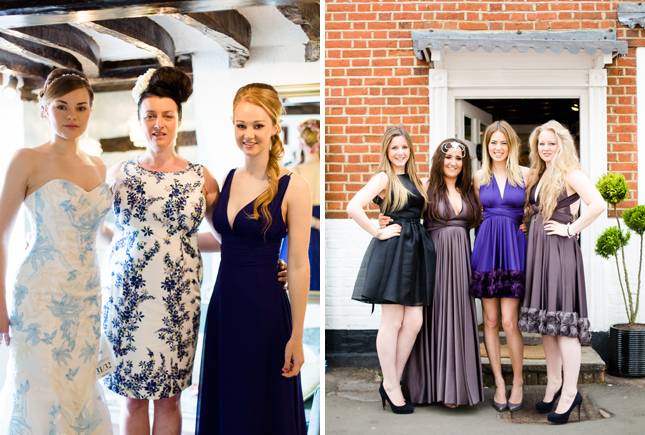 Whilst I can't physically drag the murals & the splendour of Parallel Venues' Fetcham Park to Ripley I did have the lovely Laura Caudery & Frances Edwards in attendance spreading the word about their venue. Seeing them interact with brides that have  booked them I wonder how they are going to keep up with all the friends for life they are making. I think a couple marrying or partying at Fetcham Park  have the most personal, tailored, considered service that I have ever seen.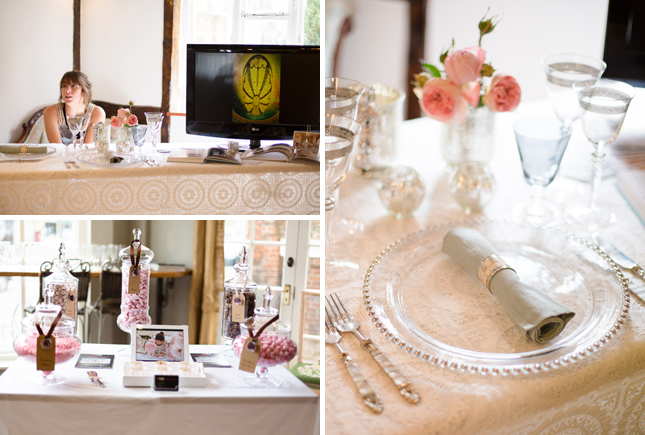 Sunday was a good idea of mine made great and possible by all the wonderful suppliers with their talent & magic.
I would like to thank everyone involved for their hard work and their ability to perform a reasonable Gangnam Style dance at the after-party
All my love
Emma xxx
View the full gallery:
THE TEAM:
View the full list of suppliers who exhibited on the day here.
Emma
Emma Meek, Director, Miss Bush Bridalwear
www.missbushbridalwear.co.uk
Miss Bush Bridalwear is Surrey's leading designer bridal boutique